Give the orphans, youth, women and old of Wukro a dignified life
One-time donation
One-off donations help us cover sporadic expenses for specific projects and needs. One-off contributions are very necessary for the execution of ongoing projects.
Become a member
The economic contributions of partners guarantee the sustainability of the projects over time. In addition, they allow a much more effective project planning since there is a stable budget, regardless of specific contributions.
Can I make a direct deposit to a bank account if I don't need to deduct?
If you want to make a financial donation to Angel Olaran's project, and you do not need to deduct, it is possible to make a deposit in the following Kutxabank account: ES62 2095 5041 15 1061674080. Swift code: BASKES2BXXX.
Why do we channel donations through the Iniciatives Solidàries Foundation?
The Fundación Iniciatives Solidàries channels all donations and guarantees that 100% of the donations reach the projects.
The management of donations is carried out through the website of the Iniciatives Solidaries Foundation, with all the necessary security measures to guarantee a safe donation. It is also possible to make a donation by bank transfer.
The Private Foundation Center Iniciatives Solidàries is included among the beneficiary entities of patronage in accordance with the provisions of the Spanish "Law 49/2002, of December 23, on the tax regime of non-profit entities and Incentives patronage prosecutors ".
The Foundation has the power to issue an annual certificate with the total amount of the contribution that may be presented in the tax return. Donations have tax deductions in the income statement in the case of individuals, or deductions in the "Corporation Tax (IS)" in donations from legal persons. As long as the rules dictated in the regime of "Law 49/2002" (Spain) are complied with.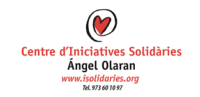 What do we get with your donations?
A donation of 18 € / month guarantees the maintenance of an orphan for a month, with the coverage of their basic needs (home, food, education and health).
A donation of 9 € / month covers the half-board costs of a child.
One-time donations make it possible to cover unforeseen project expenses and represent a contribution to the common fund, essential for the proper execution of projects.
What do you get by being a member or making a one-time donation?
Your financial contribution makes a direct contribution to improving the lives of the most vulnerable people in Wukro and the Tigray region.
Fiscally, you will benefit from a tax deduction of 75% of the first 150€ contributed.
From the first 150€, the tax deduction is 30%.
That 30% deduction becomes 35% if it has been donated to the same entity during the previous two years.