SELAM LEGESSE
Selam Legesse is one of the OVC program beneficiaries who have reached at a very good educational status through the intervention of the program. She has graduated in Electrical and Computer Engineering from Axum University. And currently, she has been working in the Ethiopian telecommunication head office in Addis Ababa as an assistant officer.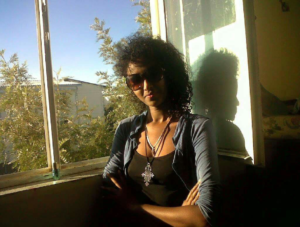 Selam was born in Humera town, is located in the Tigray region, approximately 530 Km west of Wukro town in 1983 (E.C.) Selam had both parents till she was grade 7th and her father died in 1992 (E.C.) and her mother died six years later. She went to Wukro with her brother to live in Wukro with her aunt and, she starts a new life. Selam was started 7th grade in Wukro Elementary School (Kisanet Elementary School).
Her aunt had nothing to do except applying to different charity organizations and Government offices to get support to continue the lives of the orphaned children.
The social affairs office then realized the psychosocial problems of these orphan children and asked Fr. Angel to include them in the program. Then, the children were admitted into the orphan program in 1998, (E.C.) Once they are included in the program, things started to be change and, their economic problem has got an answer. She was in grade 7 when they were joined to the program.
Selam was one of the good performer students of her school. She stood first from her class and all the sections in her school. Her performance at school started more increasing from semester to semester every Year. Her teachers and neighbors, Social workers who knew about her good performance at school, encouraged her to continue with her stand or School performance. Selam has got a good school result on the National Exam means grade 8th and passed to grade 9th high school with very good school achievement.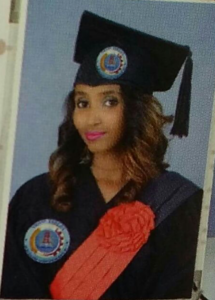 The program was encouraging or Supported to Selam as well as her brother to get support like additional or Tutorial Class, network class, and Multipurpose center participation, and she has a member of Environment and hygiene Club and leads as a chairperson and participating as a member for three years and, she has been very well to be active for the future study and their future life. Things started to be changed when she has included in the program. She was able to get economic support that would cover the expenses of their own basic needs. Then, she started to more perform well in her study. She was then able to pass the university entrance examination successfully and Joined Axum University and studied Electrical and Computer Engineering (Focus area in Electrical power) for five years and she graduated in 2008 (E.C.)
Later on, Selam started a new job mean Employed in governmental office in Addis Ababa Ethiopian Telecommunication Office as an assistant officer. At the moment Selam has been working in Ethiopian telecommunication and living very well and she became model example for the other beneficiaries.
Finally, what to say here is all this effort have Fr. Angel, and also all staff's members of WSDP.