ARAYA YEMANE
Araya Yemane is one of the OVC program Beneficiaries who have reached at very good educational status through the intervention of the program. He has graduated in Mekelle University as Medical Doctor, and currently he has been working in Ayder referral hospital as Medical Doctor.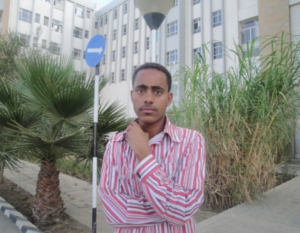 Araya was born in 1986 (E.C.) in a small village known as Laelay Wukro. He lived with his parents and having Six brothers and sisters, till he was 14 years old. His father died in 2000 (E.C.) after he got TB (tuberculoses) and two years after his father's death the mother was died.
While he was living with his parents, the family led an ordinary life like that of the others living in the village. According to Araya his parents were very hard working and devoting all their times for their children. They used to follow their children at school and they were really very good parents. Just before the death of the parents his elder sister got married and immediately after death of the parents his elder brother joined the military.
After death of his father, the family faced economical crisis since the father was the sole source of income for the family and the mother was also getting sick. When Fr. Angel came to know about the situation of the family, Fr. Angel started extending a monthly help of 70 Birr. During this period as the support was not enough to the family of Seven household's, Araya discontinued his education and was earning additional income by selling bread that he was getting from the soldiers' camp near his home where in near the village. Mother dies in 2002 (E.C.) two years later the death of his father.
After loosing of both parents, he was left with his younger sister and two brothers. All the responsibility of leading the family was put in to his shoulders as his parents were farmers having no fixed asset that might help the children as source of income. Araya Says that he got himself in the empty house with full of responsibilities to take care of his younger brothers and sister which was actually really difficult. He was too young to take all these responsibilities.
As soon as Fr. Angel knew about the death of the mother, the children were admitted into the orphan's program and Araya started going to school after two years of not attending.
He says that things started to change after he and his brothers and sister were admitted in to the care and Support program. They continued their education and he started to score Very good results in grade 8th national examination. He improved his results year to year and was able to pass the national examination from 12th grade in 2008 (E.C.) successfully and joined to Mekelle University Ayder medicine department. It is because his brothers and sister are being taken and care by the program that he is able to do his studies well. At that time Araya was one of the most outstanding students among the Medical student in the University.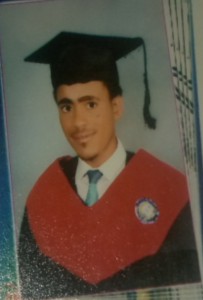 He has learned not to lose hope and be optimist about the future from the practical experience of his life. He said "there is someone who cares about you somewhere, the difficulty is to find him/her where he or she is or to find you where you are, but it was not difficult for me and my sister and my brothers, the WSDP and Fr. Angel found us where we were."
What is good about the family is also that his younger brothers and sister are following his footsteps of being best in their studies. Two of them were taking awards for standing 1st and 3rd in their respective class.
At this time Araya becomes a Medical doctor in Mekelle University Ayder Comprehensive and Referral Hospital as well as he specialized by surgery. And also his young Sister called Bisrat Yemane graduated in accounting and she became a teacher in St. May College, including both of the younger brothers they have been studying in Mekelle University and Bahir Dar University.
Finally, what to say here is all this effort have Fr. Angel, and also all staff's members of WSDP.